School Symbols
LOGO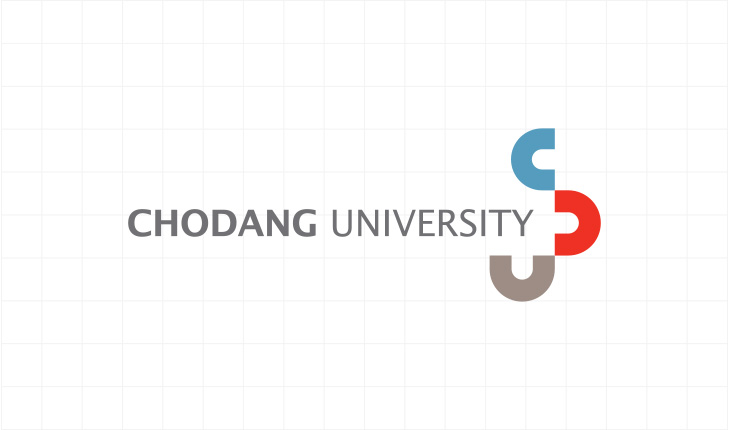 Chodang University's logo consists of its initials-CDU-linked together in a blocked format. This logo conveys the idea that in order for a successful education to transpire, what is needed is a strong linkage between Chodang's students and faculty, which in turn have been forged by the bonds of close interaction and successful communication. Furthermore, the logo's modern design signifies that Chodang University is future-oriented, and will provide its students new opportunities for them to realize their dreams. This will be accomplished through the Chodang network that is comprised of current students, graduates, university staff members, and contacts throughout society. Therefore, the blue C in the logo signifies our dreams and vision of the future, the red D denotes our passion for this vision, and the gray U represents university-a special place where education is respected and acquired.
School Flower : Camellia
Glory After Efforts
Camellia flowers bloom in spring after going through a severely cold winter. We chose camellia flower hoping that Chodang University students would bear fruit through the hardships.
Honam's Elite Educational Institution
Camellia flowers bloom beautifully especially in Jeollado. Thus, we chose Camellia Follower in order to represent our vision of Chodang University being the leading school, which represents Honam region.
School Tree : Gingko Tree
Hall of Learning
Confucius taught his disciples under the gingko tree. Gingko tree symbolizes that Chodang University is a hall of learning.
Elite Educational Institution
Korea is known as one of the greatest nations for Gingko tree in the world. Gingko tree in the logo represents Chondang University's hope that it would be one of elite educational institutions that would lead the world.
Symbol of Confidence and Strong Vitality
Gingko tree has commanding appearance. It is the oldest tree on the earth and its expected life span is at least one thousand years.
Mascot : Horse
Endurance and Strong Wills
Han-Hyul Sweat-Blood Horse, sometimes referred as Han-Ma, is a fine horse in Chinese Saki - Daewonyulchon. It is written that Han-Ma runs a thousand miles a day without any halts and never gets exhausted. It runs as fast as lightening and when it gets sweat, it looks as if it's bleeding - That is how this horse named Han-Hyul. Han-Hyul symbolizes Chodang University students' strong wills and endurance.
Color: GREEN
A Hall of Youth: Green is a color of leaf, which represents the aspiring youth. Chodang University chose green as the color of the school to show that it is a place where youths get together.
Fellowship with Environment
Green also represents environment. It represents Chodang University will be the leader of preservation of nature.
Serve the community
Green represents our land and local community. It symbolizes that Chodang University respects people of Jeonnam and is committed to serve the community.
· Modification date : 2019-09-04